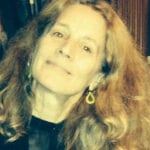 Joan Levy Hepburn has been making art and music since early childhood.
Born in 1954 in Louisville, Kentucky, a three-month-old budding artist moved to a suburb of New Haven, Connecticut, where her father began his career as a Neurologist at Yale University.
The choice to attend Buxton School in Williamstown, Massachusetts would prove to be a life-altering decision.
By the time Joan arrived at Buxton, she was already a seasoned painter. She met Willem de Kooning when he visited the school and admired one of her paintings hanging on the wall in the dining room. They shared an instant chemistry through painting and he became her personal mentor for the rest of his life. De Kooning warned against the traps of academic art education. After high school, Joan made regular trips for a few years to de Kooning's studio to learn from him. Then, he guided her through accelerated college art degrees at Rhode Island School of Design and Kansas City Art Institute. He had disdain for close-minded classifications. He referenced the entire gamut of art history in a non-linear path to be borrowed as needed. As he said, "It is all painting!" They shared an admiration for Cezanne.
At the age of seven, Joan heard a record by Dave Van Ronk. That began her life's journey in music, which started on her grandmother's Gibson guitar. She played old English ballads, blues, and folk music by ear until she met Dave Van Ronk at the age of 20. She traded paintings for guitar lessons with Dave in finger style blues and ragtime music. Their mutual fascination of music and painting sparked discussions that Joan translated into color palettes. She began to see how color could communicate direct emotional and physical sensations to the audience. Since then, painting and music have been joined in her perception and creation of art.
Joan has always used color as a means of organizing and understanding life and creating new ideas. Her intention in painting is to make a real physical experience, rather than a "picture of one." She uses pigment as a tool to present perceptual color based on the physics of light. She has a natural color eye that is the equivalent to perfect pitch in music. In her early 20s, she co-founded an international company in color separation, specializing in high-quality color reproduction for the publication of art for museums and galleries. Since then, she has been known as "The Colordoctor." Her work in color separation has enabled her to handle and thoroughly inspect artwork by the masters throughout human civilization. She has shared her knowledge and experience with museum curators and scholars. She also gives talks at museums and universities about her personal experiences with Willem de Kooning to promote understanding of his work.
As Albert Einstein said, "A great thought begins by seeing something differently, with a shift of the mind's eye." Joan lectures and teaches art classes that make people more aware of seeing. Her audience is not limited to artists. She has taught scientists and philosophers at M.I.T. and Stony Brook University to see the order and connections where the universe meets human consciousness to form new ideas and inventions.
As a result of all of her life's work, she has found her own Magnum Opus in her discovery of stereoscopic oil painting. She perceives Cezanne to be the original stereoscopic painter and appreciates his translation of the spatial world onto the surface of the canvas. However, instead of painting fragmented sensations that find cohesion in the composition, Joan paints simultaneous views of separate eyes that are defined and joined by opposite colors in the physics of light. The red/cyan anaglyph has been used to create 3-D illusion in photography and cartoon before, but not in painting. Like Cezanne, Joan's compositions also support the three-dimensional construction of the space. Joan has adapted this way of painting to add another dimension to her "Streams" series, which began in 2013. A book published in 2014 documents the "Streams" exhibition of oil paintings. The text is written by Richard Shiff, PhD - Effie Marie Cain Regents Chair in Art at The University of Texas at Austin. You may order a copy of this book by contacting Joan Levy Hepburn (colordoctor@comcast.net).
Joan's musical career has evolved to include playing cello. The "Streams" series is augmented by a soundtrack of her cello music and natural biophony of sounds recorded in the nature preserve at her studio in Connecticut. She began playing electric guitar in 2010 with Joe Bouchard, and they started performing together.
In 2015, Joan and Joe collaborated with CT Ballet to create "The Pool of Memory," a ballet performance based on Joan's painting about Mnemosyne and Zeus procreating the Muses. Joan provided the 40' stage backdrop and costumes, and Joe and musician friend Kevin O'Neil composed the music for the CT Ballet choreography.
In 2016, a trio was formed along with Joe's brother Albert (both original founding members of the band Blue Oyster Cult). Since then, Joan joyfully performs in shows as lead guitar player with The Bouchard Brothers when she pulls herself away from her painting studio.